Travels in West Africa
Our first evening in Abidjan was spent entertaining the local TU club at dinner. We met about 8 local hams and had a nice time. The TU hams are a great bunch!
We all agreed to be up at 6 AM the next morning to get started for Accra. We figured the trip would take nearly 10 hours. We had the same 30 seat bus as last year, plus a small van to help carry all of us and the gear (Photo C). As it turned out, the van had a starter problem and we had to push start it after every stop. At every stop, Bob needed his cigarette. It looked more like he was chewing it, rather than actually smoking, because he was so nervous.
There are plenty of checkpoints throughout West Africa—police customs, military, local militia, etc. You can imagine the curiosity it creates when 10 foreigners come traveling down the road in a 30-foot bus with towers and antennas stacked on the roof and boxes of radios, amplifiers, miscellaneous gear, and a helium tank stashed in with us. Guaranteed to get us stopped every time. In some instances, like entering Togo, we were stopped by 3 different groups before we had traveled I mile. In most cases, though, our guide Richard was able to get us going again within moments. We just kept our cameras down and smiled and waved. There were no problems, except the time Jim Larson, K7GE, forgot and kept his video camera in sight at a military checkpoint The guard got just a lit-tie upset, and pulled Jim off the bus. It was kind of humorous watching Jim rewind the video and let the guard watch through the eyepiece and listen to Jim explain how he was only taking pictures of goats! Fortunately, Jim has the great gift of gab and talked himself out of trouble; we were once again on our merry way.
We stopped a couple of times for beer or soda and, of course, for bathroom breaks. However, there are no bathrooms along the road, so it meant going in the weeds next to the bus. We got some funny looking shots of everyone lined up, but didn't want to publish them here. Photography wasn't permitted at checkpoints, bridge crossings, or border crossings, so we just waited until we were out of sight and snapped away. A few adventurous ones did stealth photography.
We did make it to Accra, and on the second night we entertained GARS (Ghana Amateur Radio Society, Photo B). These guys have been a tremendous help to us over the past few years—especially Samir, 9G1NS, and Ralph, 9G1RQ. Samir handled all the customs paperwork and 9G licensing, while Ralph stored all our antennas from our 1995 operation. Ralph even acquired the helium tank for our planned 160-meter balloon antenna. We presented GARS with a brand new ETM9C keyer/paddle made by Herman, DJ2BW. The club station (9G0ARS) has an FT-990 and tribander, but had no keyer for guys like us who visit. Next time a ham decides to visit Accra, they won't need anything but themselves to get on the air.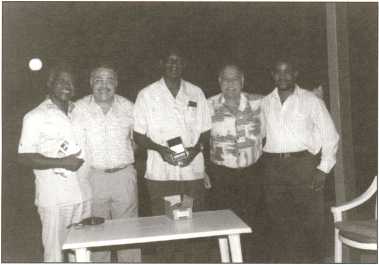 Traveling to 5V7A took us through 9G where we met with the Ghana Amateur Radio Society. L to R: 9G1NS, 9G1AJ, 9G1AJ, 9G1RL and 9G1PB.
Crossing Borders
We were up early again the next day for another 6 AM departure. Travel time to the Ghana/Togo border is about 3 hours over some of the worst pothole-infested roads you can imagine. In some cases the road was dirt, as all the pavement had disappeared. The trip to the border was uneventful and we expected to be in Lome by 2 PM. We hoped to get some antenna work done that afternoon.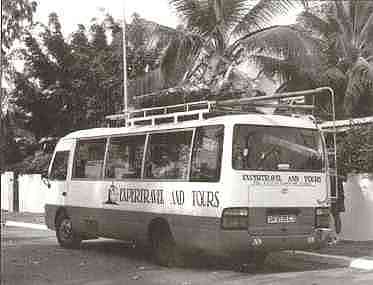 Our travel bus with all the towers and antennas strapped on top.
Murphy had other plans, though. It took us 1.5 hours to clear customs and get out of Ghana, and another 2.5 hours to get into Togo. Our guide, Richard, did all the work, while the rest of us waited, bartered a little with the locals, and idled the time away. It was warm and humid, but there was a nice breeze as the border crossing is literally on the beach.
Once, in Ghana, the customs people decided to take the bus to the warehouse for inspection. Mike, N7MB, Tony, N7BG, and Paul, K7PN, went with them. It ended up as a job justification, as they looked at nothing. While waiting for it all to end, Mike, N7MB, introduced Paul to one of the locals as the famous "Big Kahunda." Paul is about 6 feet 5 inches tall. That same local liked the name so much that he started calling himself "The Big Kahunda." It was so funny, we didn't tell him he had the name wrong. The last 30 minutes waiting to depart Ghana were taken up by a customs official negotiating with Roger, G3SXW, for a deposit for our equipment and his asking Roger to help him with his weekly picks for the UK football pool (soccer to us Yanks). Of all things to delay our departure! But you do what you must to make it work. We hoped Roger picked well because we'd be making the same border crossing a week later. We finally arrived at the Sarakawa Hotel about 5 PM.
Arriving On Site
Our plans were to take the gear off the bus on the side of the building and haul it to the roof (Photo D) by rope. The roof is approximately 60 to 70 feet high. The maintenance people, however, had other ideas. They ushered our bus around to the rear of the hotel. The rooms and patios on the back side are terraced. They rounded up a number of guys and a ladder and proceeded to send everything up to the roof by passing each piece of gear (except radios, etc.) to the next guy in line. They had all the heavy stuff on the roof in 30 minutes. We figured it saved us almost 2 hours of work. Roger negotiated a price for help for the next couple of days, which made our jobs easier.
We got checked in and proceeded to bring all the radios, amps, and miscellaneous gear to the suite we rented for use as a shack. We noticed that every time we opened a patio door, the air conditioner would shut off. Not a good prospect while running 6 amplifiers during the contest! We found the engineer to ask him to run a ground for us and to see if we could add amps to the room. He asked how much we wanted. We sheepishly asked for 60 amps. No problem, he said, and sure enough, the next morning the ground wire and cable were added so we could run 6 Alphas at full power. When he saw we were running cables through the patio door, he volunteered to take out a small plate glass window and replace it with wood with round holes so we could bring all the cables in and keep the doors closed. How many hotels in the USA would even accommodate a request to put antennas on their roof?
Installing Antennas
After the visit to Abidjan last February, the group decided to have nine 10-foot sections of tower fabricated at a local plant, so we could get three of the antennas 30 feet above the metal corrugated roof Paul, K7PN, runs a metal shop in Oregon. He fabricated guy anchor points that would fit over the existing roof-cladding bolts, so we wouldn't have to do any drilling. They worked, too. We put the tower sections together on the roof, used rope for guys, and then pushed the towers up into place. Paul then climbed to point each antenna in the correct direction. The only antenna that needed to be trammed up in place was the 2-element Cushcraft 40-meter beam. We put the 30 feet of tower on top of the elevator shaft, making the height above ground for 40 meters just over 100 feet. Paul got the tram line and pulleys in place and we were ready to hoist the antenna. Good thing we decided to check the antenna with the RF analyzer first. It turned out the feedline got crushed when we were clamping down the element. We fixed that problem in a hurry. Five of us were pulling on the hoist line, when something at the top of the tower let go. We all thought the tower was coming down. We looked like the Three Stooges as all of us fell backwards on our butts at the same time. It turned out that the rotor bolts we used weren't long enough. The rotor with the 2-foot mast came flying off the top of the tower, landing 2 feet from Paul. He was very lucky he didn't get hit in the head. From that point on, Paul became known as "Rotator Head." We fixed the problem by getting longer bolts and using a back stay on the mast. After that, the antenna went up perfectly.